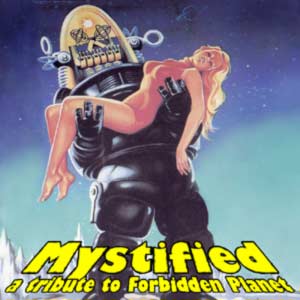 Mystified returns with another couple of real-world disks.
For those who have been listening to the Tone Generation podcasts - pointed to some time ago - his album on Roil Noise
A Tribute to Forbidden Planet
is a beauty. While I can't compare it to the original (having only seen the film once many years ago and have heard snatches of the soundtrack, including on the podcast) this seems to capture the spirit of the time with analog synth woobling and fibrillar pulsing, singing tones, crackling edgy generator-noises, humming and grainy tones. Recurring themes and changing moods - there are some contemplative moments - keep you focussed on the musical drama. In a further act of homage, it seems the tracks are the exact same length as the originals - when I ripped this into my iTunes library the tracklist database identified it as the soundtrack and lobbed up the titles. A lot of fun and a strangely modern blast from the past!
Meanwhile, from Sartgalgh records a 3" 20 minute drone piece
Falling From Grace.
This is a shifting work with quite separate movements that slide into each other - the first part is quite direct metal drones, which shifts to a gentler ringing before a more subtly beated section. Then a long soft fade that ties off this very nice little work.
And of course there has been plenty of activity on TreeTrunk and Webbed Hands in the interim - Mystified's
Ocean of Vapour on Webbed hand,
the two remix albums based onMystified's Particular Stream; more Constants; another in the Rain series on Webbed - the first from label boss McDill and a huge compilation of String ambient by familiar and less so names.